Mit kompetenten Mitarbeitern, die wissen, was wir tun, und mit langjähriger Erfahrung in der Branche. Rufen Sie an und buchen Sie Ihre Zeit unter der Telefonnummer +49 30 9838 9481 oder besuchen Sie uns in der Nollendorfstraße 16 in Berlin. Herzlich Willkommen!
Gift Cards
We also sell gift cards that you can buy for your loved ones.
Why not spend the day having a massage with someone you love.
Or even better, you can treat yourself to a massage.
Whatever you plan to buy the gift card is guaranteed to be a highly valued gift.
Would you like to buy gift cards?
You can either call us, visit us or notify us by email.
If you do not want to collect the gift card, we can send it to you, provided we have received payment in advance.
10 Hours get FREE 1 Hours MASSAGE !
Massage to treat muscle-related symptoms, to dissolve nodules and to improve blood flow to the body. There are many advantages to massage. which massage treatment should you choose? It depends on the person and what symptoms you show. All massage treatments have a preventive purpose. Call us on tel. +49 30 9838 9481 so we'll tell you more ...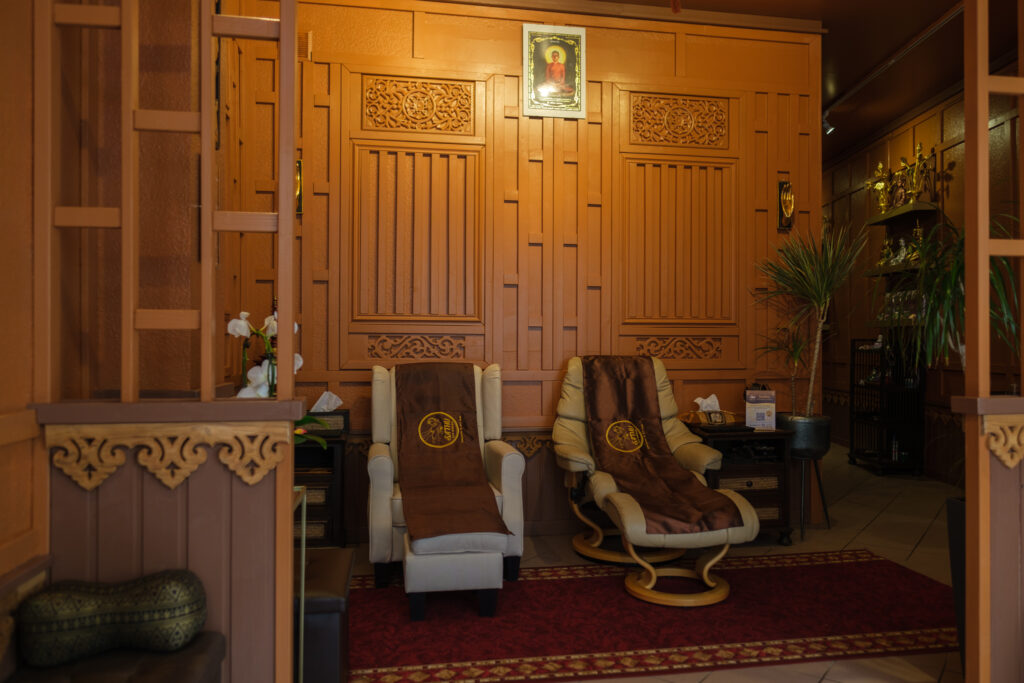 Sathu Thai Massage Berlin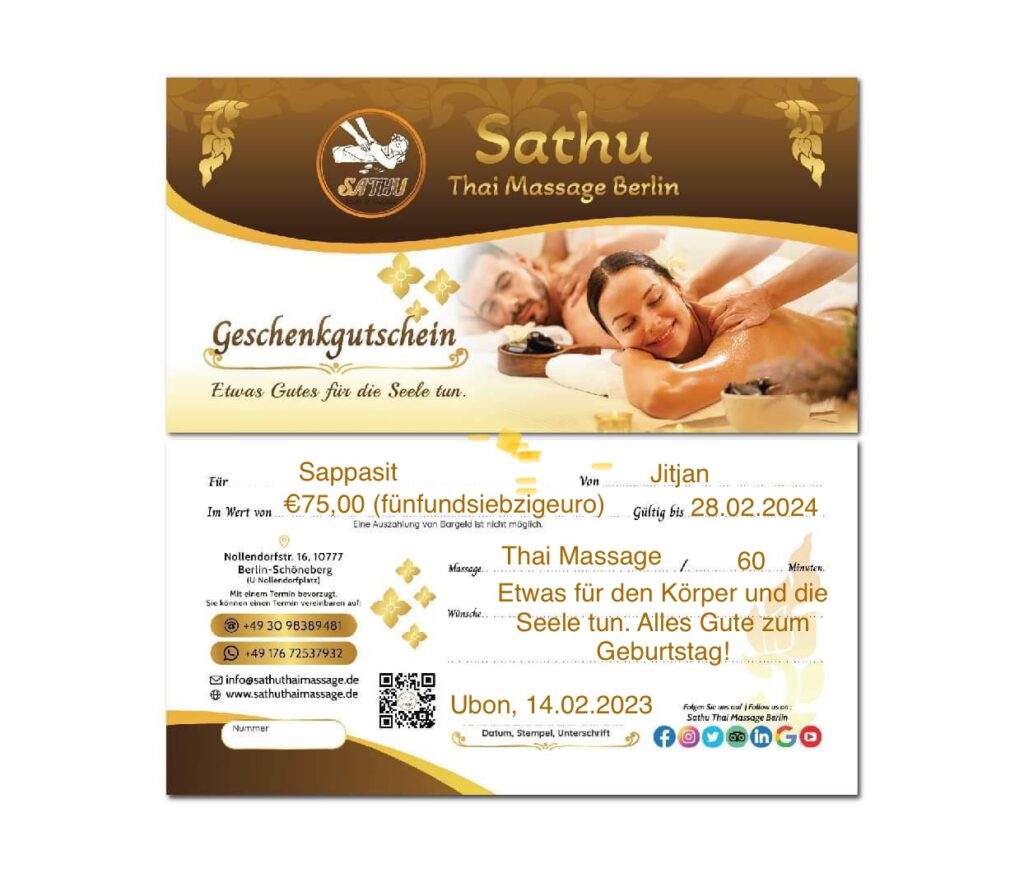 Sonderangebot !
Pay 10 GET 12
Spezial Angebot 12 für 10 NUAD THAI Geschenkgutscheine
❤️❤️❤️🎁Das perfekte Valetinstag Geschenk 🎁❤️❤️❤️
Möchten Sie Ihren Geliebten, der Familie, Freunde oder Mitarbeitern eine Freude schenken?
Dann ist unser Angebot 10 Plus 2 Gratis genau das Richtige.
Kaufen Sie 10 Nuad Thai (traditionelle Thai Massage) Geschenkgutscheine für €750,00 und
Sie erhalten 12 Nuad Thai Geschenkgutscheine. Sie sparen €150,00. Die Geschenkgutscheine sind 1 Jahr vom Kaufdatum gültig.
Dieses Angebot ist nur bis zum 28. Februar 2023 gültig.
Wir haben ab dem Freitag, 03.02.2023 wieder geöffnet.
Wir sind täglich für Sie wieder da.
Montag – Sonntag: 10:00 bis 23:00 Uhr.
Wir freuen uns auf Ihren Besuch.
SATHU THAI MASSAGE BERLIN
"Etwas Gutes für den Körper und die Seele tun"
Nollendorfstr. 16, 10777 Berlin-Schöneberg (U Nollendorfplatz)
Telefon: +49 30 98389481
Whatsapp: +49 176 72537932
#sathuthaimassageberlin #sathuthaimassage
Laufen Sie nicht mit steifen und empfindlichen Gelenken herum. Befreien Sie sich von den Schmerzen!
Book a treatment today. Call us on tel. 030 9838 9481