Welcome to one of the best Thai Massage in Berlin
Wir akzeptieren Kartenzahlung als auch Paypal.
Liebe Kunden,
 herzlich willkommen bei uns in der Sathu Thai Massage. Wir sind wieder für Sie da. Wir haben täglich von 10:00 bis 23:00 Uhr geöffnet. Es würde uns sehr freuen, Sie (bald) wieder bei uns begrüßen zu dürfen. 
Freundliche Grüße 
Ihr Sathu Thai Massage Team  
Sathu Thai Massage Berlin
Welcome
Sathu Thai Massage Berlin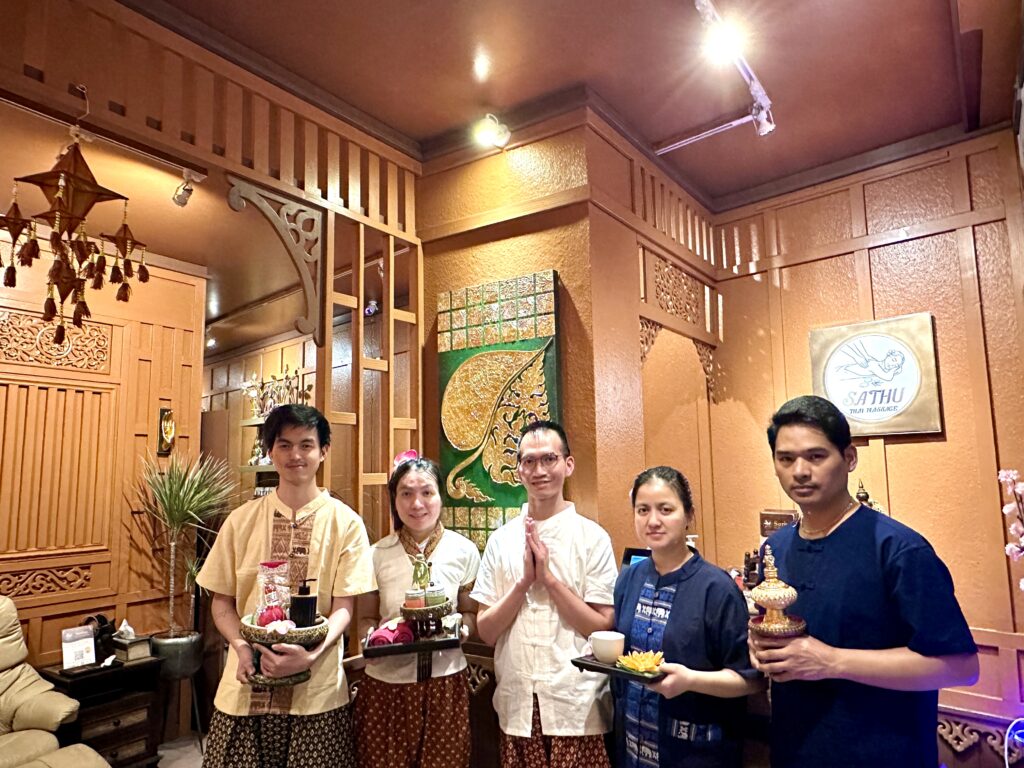 Die Behandlung des Körpers mit Massagen ist eine alte Tradition, die bis heute besteht. Studien zeigen, dass Massage eine wirksame Behandlungsmethode zur Behandlung von Schmerzen, aber auch zur Entspannung ist. Die Thai-Massage(Nuad Thai) ist eine Kombination aus Yoga, Dehnung und Akupressur und arbeitet mit den Energielinien des Körpers, während die Ölmassage eine entspannendere Massageform mit geruchlosen Ölen oder aromatischen Ölen darstellt. Sie arbeiten mit ruhigen Bewegungen am ganzen Körper. Mehr Fokus auf Muskelkneten und Entspannung. Möchten Sie mehr über unsere Massageanwendungen erfahren?
Rufen Sie uns unter +49 30 9838 9481 an. Herzlich willkommen.
NUAD THAI oder Thaimassage und Ölmassage zur Behandlung verschiedener Probleme, die bei hohem Alter oder bei Abnutzung durch harte Arbeit und Sportverletzungen usw. auftreten können. Die Thaimassage kann bis zu einem gewissen Grad lindern und verhindern, während die Ölmassage für Menschen geeignet ist, die eine entspanntere Massagebehandlung wünschen. Es wird empfohlen, wiederholte Behandlungen durchzuführen, um die bestmögliche Wirkung zu erzielen. Wenn Sie mehr über unsere Massageanwendungen erfahren möchten, können Sie uns gerne besuchen oder anrufen. +49 30 9838 9481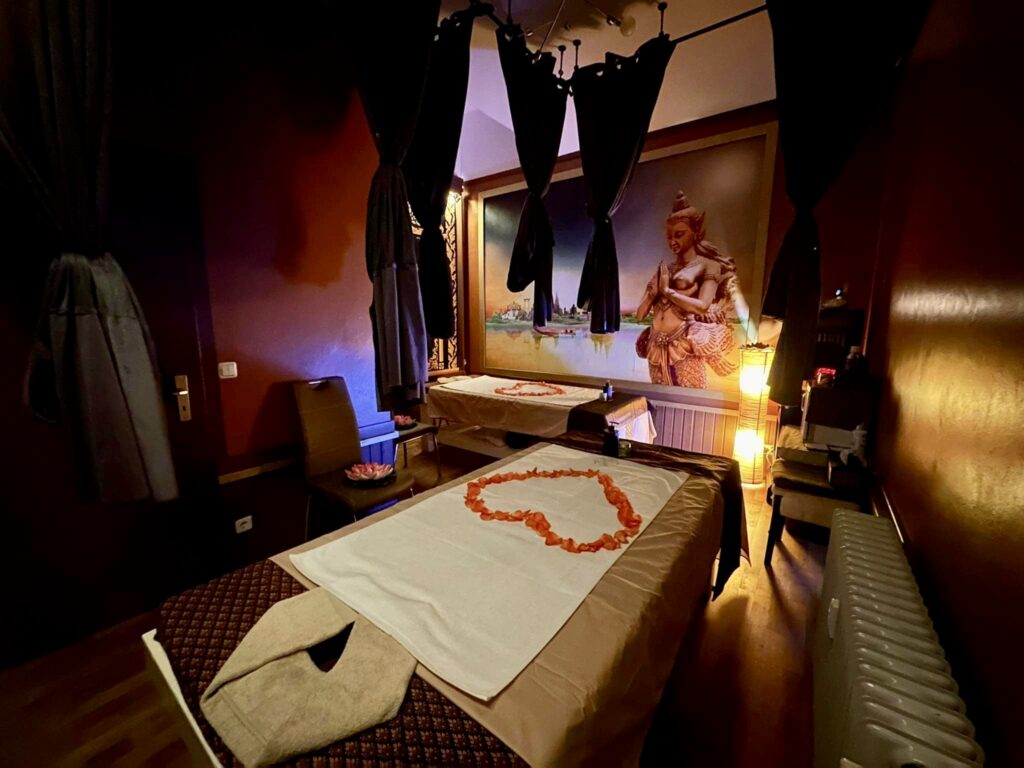 Sathu Thai Massage Berlin
Weil Ihr Körper und Ihre Seele eine Entspannung brauchen. Lassen Sie sich für eine Massage bei uns.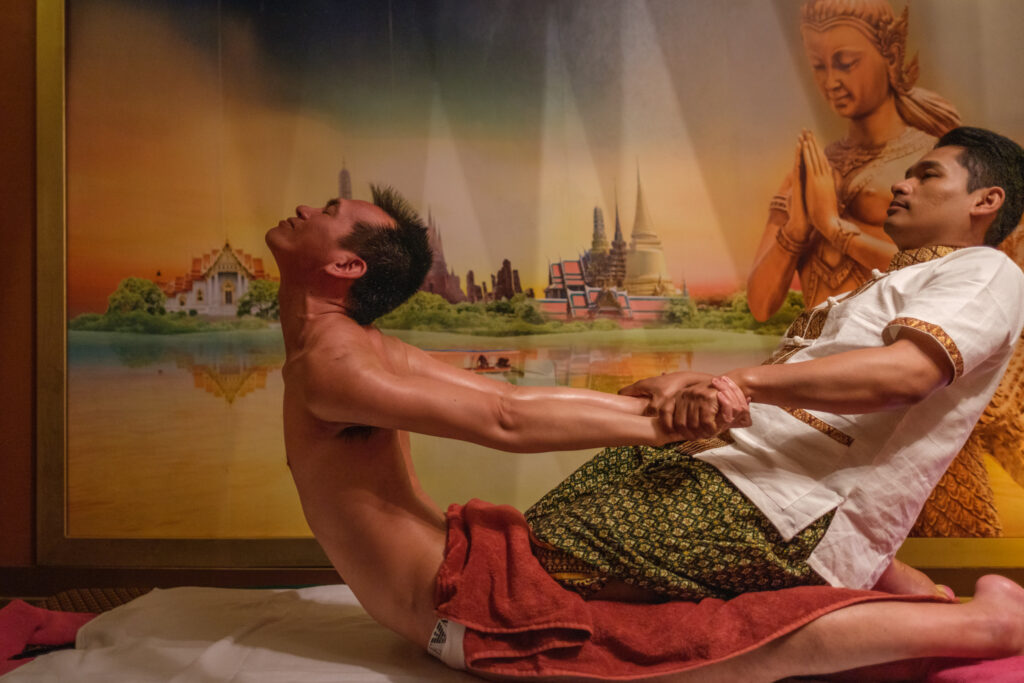 Traditional Thai Massage
Traditional Thai massage. The Thai massage consists of passive stretching positions and stretching movements taken from yoga, mobilization of the joints and pressure point massages. This means that on certain parts of the body the therapist is exerted a gentle but also certain pressure with your hands, knees, elbows and feet.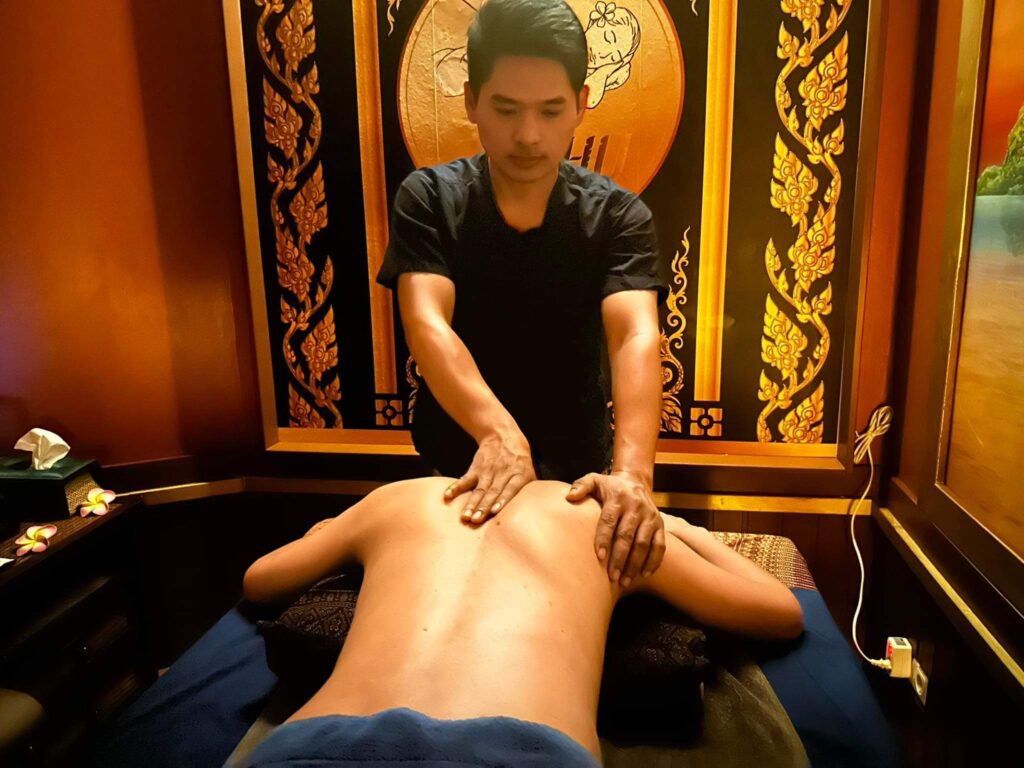 Aroma Oil Massage
Aroma oil massage. With the use of essential oils, body, mind and soul are influenced in a positive way. The Thai aromatic oil massage is an energetic massage with alternating stroking and kneading massage strokes as well as gentle stretching and stretching, which bring about rest and relaxation throughout the body. The energy can flow again and blockages are released.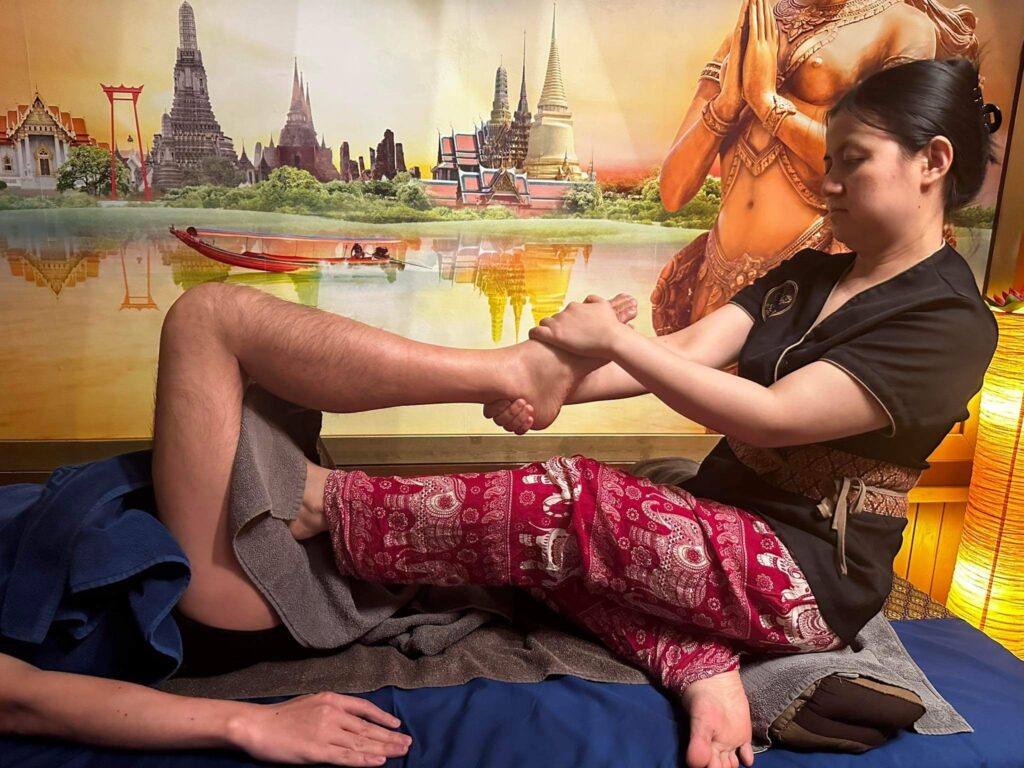 Thai-Sport Massage
Thai + sports massage As a supplement to the classic massage, this type specifically deals with the problems caused by sports and prevents them.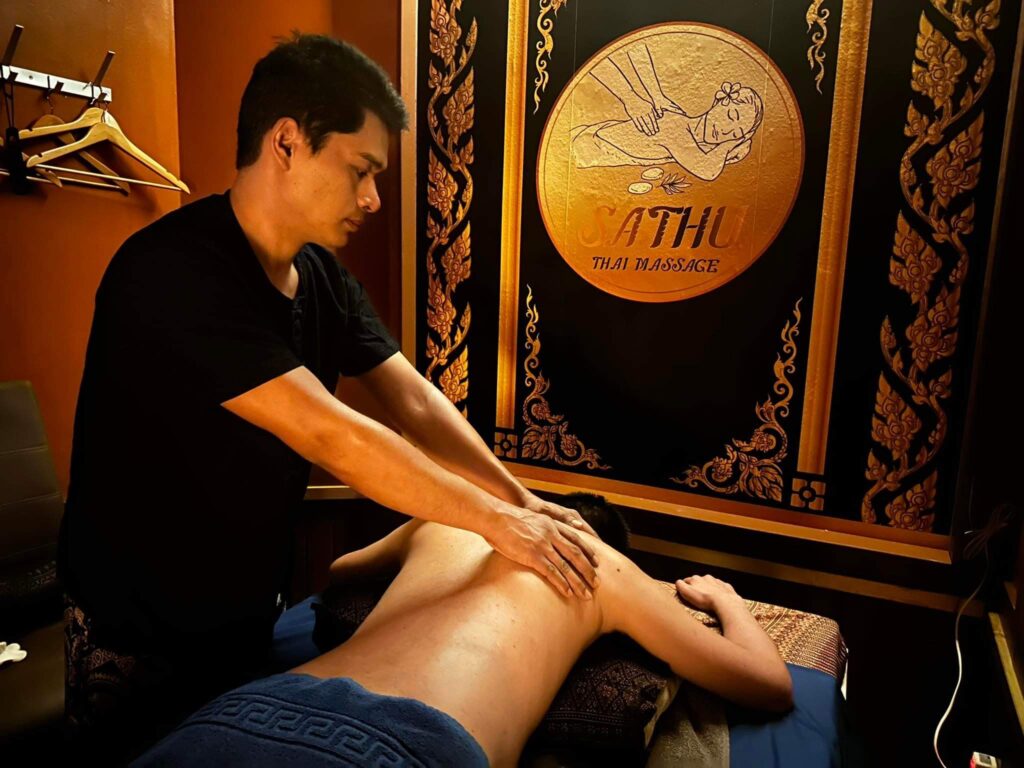 Relax Massage with Aroma Oil
Relaxation, Lomi Lomi massage. A Lomi massage is not only for relaxation, but also for physical, mental and spiritual cleansing. Energy (mana) flows in a healthy body. Blockages cause illness or can manifest themselves as physical tension. The massage is intended to remove these blockages on a physical and mental level and restore harmony between body, mind and soul. This massage usually lasts around two hours, a lot of oil is used. The practitioner works not only with the hands, but with the entire forearm including the elbows. The strength of the massage can vary, even within one treatment. So it can be very gentle and soothing, but also demanding, going into pain to release deep tensions.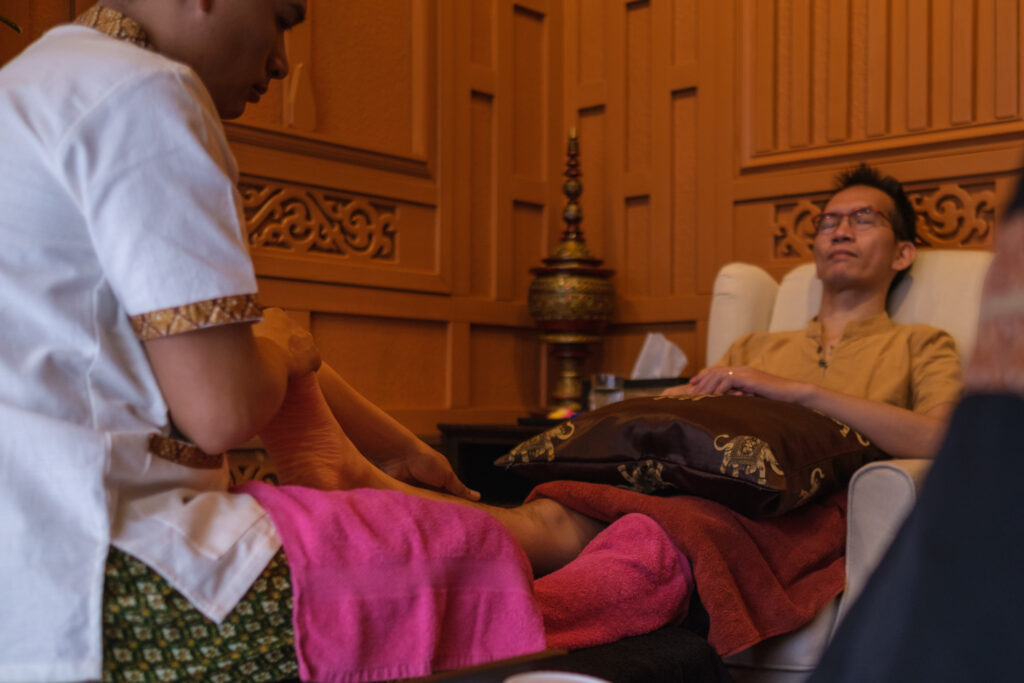 Foot Massage
Reflexology. The reflexology massage is based on the theory that every organ is reflected on the foot. The precisely defined reflex zones on the feet are stimulated with a specific and flowing pressure technique. It can improve blood flow to the organs and relieve tension, balance the flow of energy in the body and thus relieve pain and discomfort.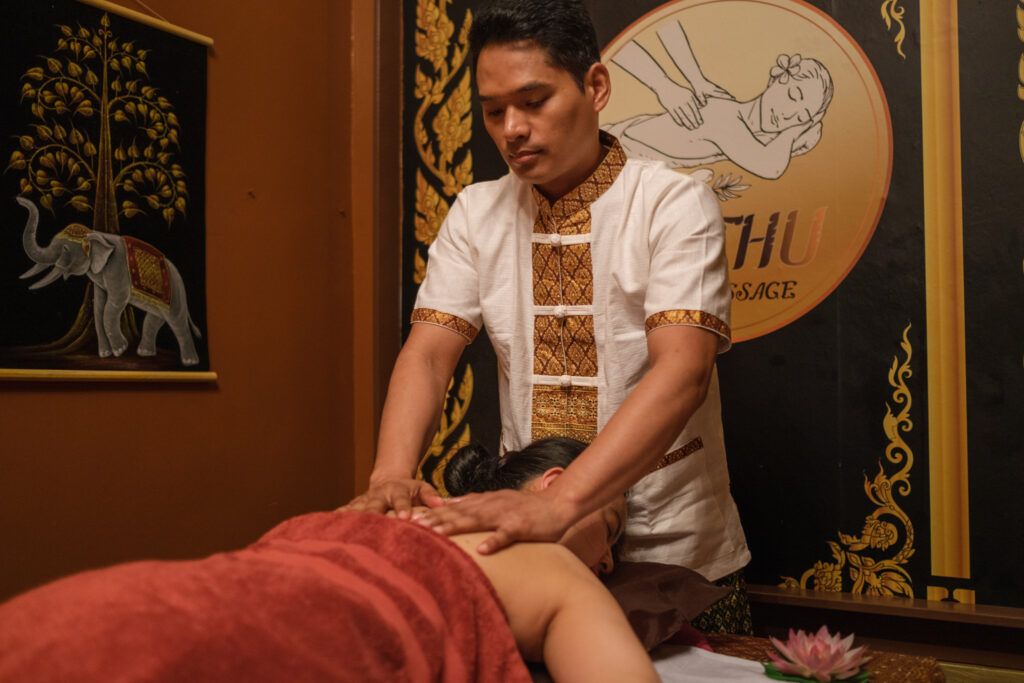 Head-Shoulders-Back Massage
Head-shoulder-back massage. Sedentary activities are often the cause of tension in the back and neck area. The muscles are loosened and refreshed through a targeted treatment of the back, shoulders and neck. A variety of grip techniques in combination with beneficial oils achieve a circulation-promoting, relaxing, stress and pain-relieving effect.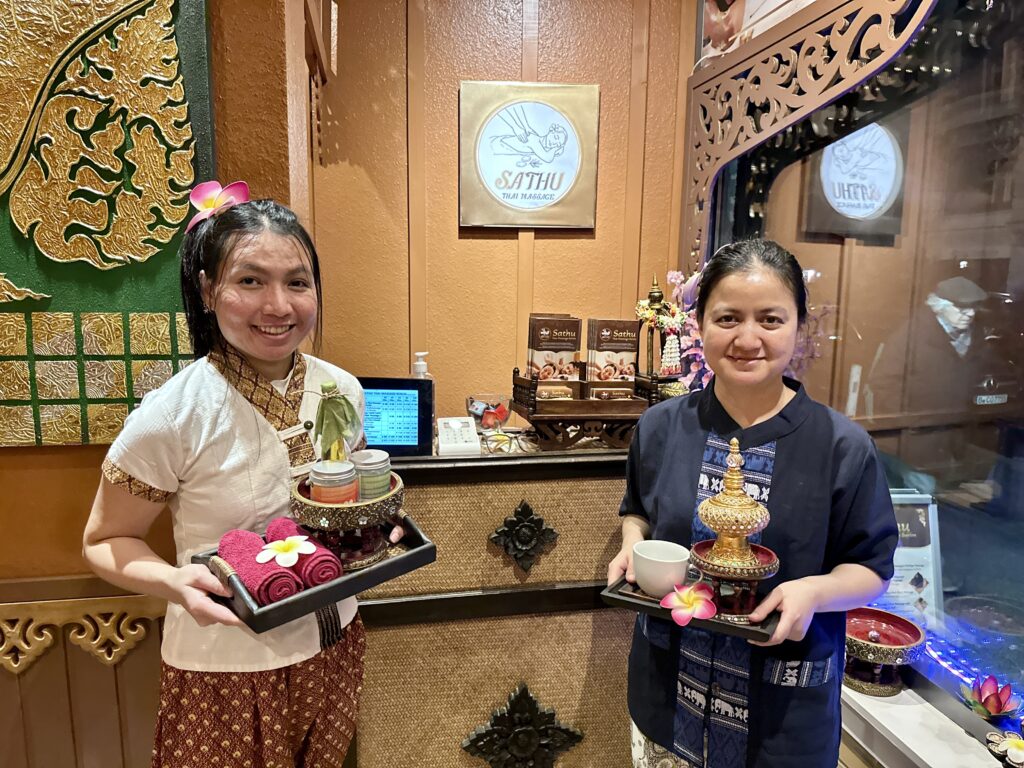 Hot Stone Massage
Hot stone massage. The combination of the primal power of the stones, the heat treatment and the massage soothes, relaxes and increases the metabolic processes in the tissue. Lymph flow and the immune system are stimulated and the removal of metabolic products is promoted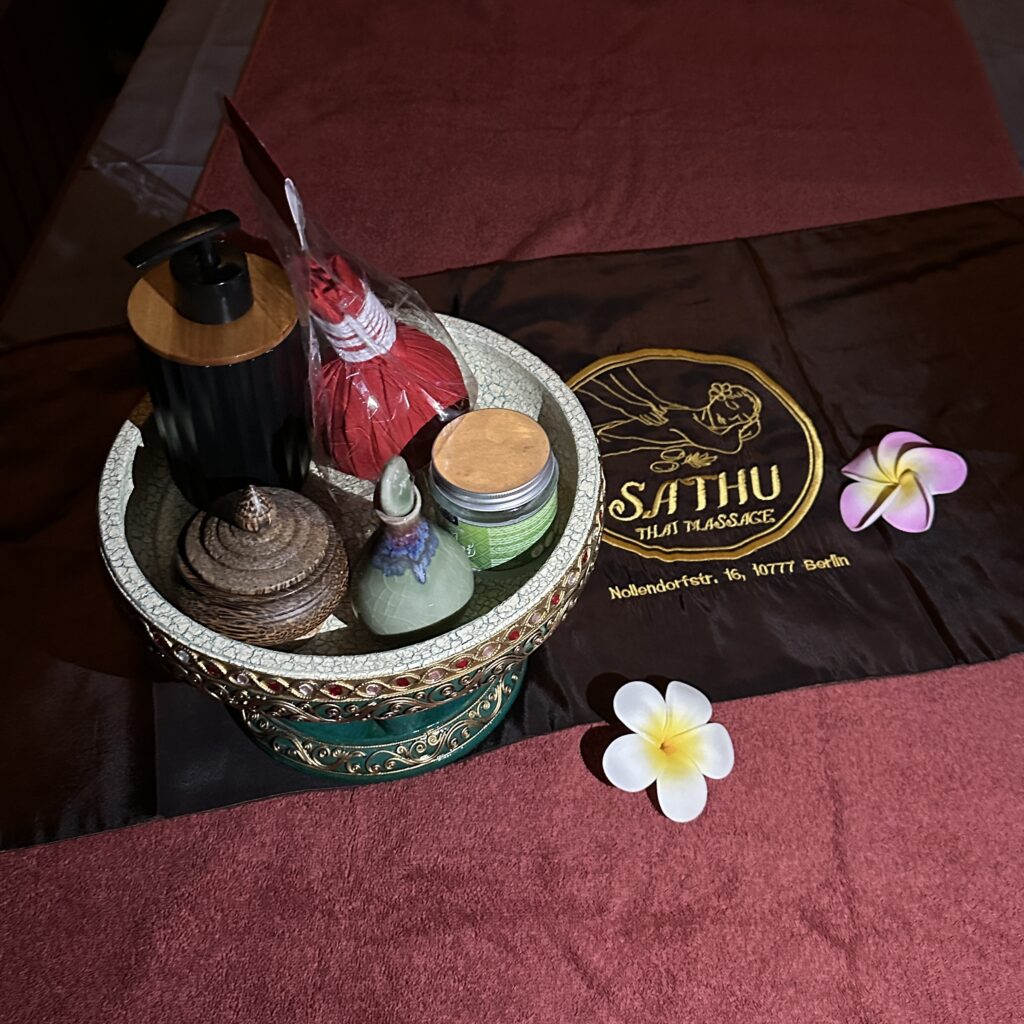 Thai Massage with Thai Herbals Compress Ball
Thai massage with herbal stamp. This form of massage is practiced with the help of Thai herbal stamps. These are heated with hot steam and then placed on the body or used directly for massage. The herbs give off their essential oil and help with the blood circulation with beneficial effects. A relaxed attitude to life.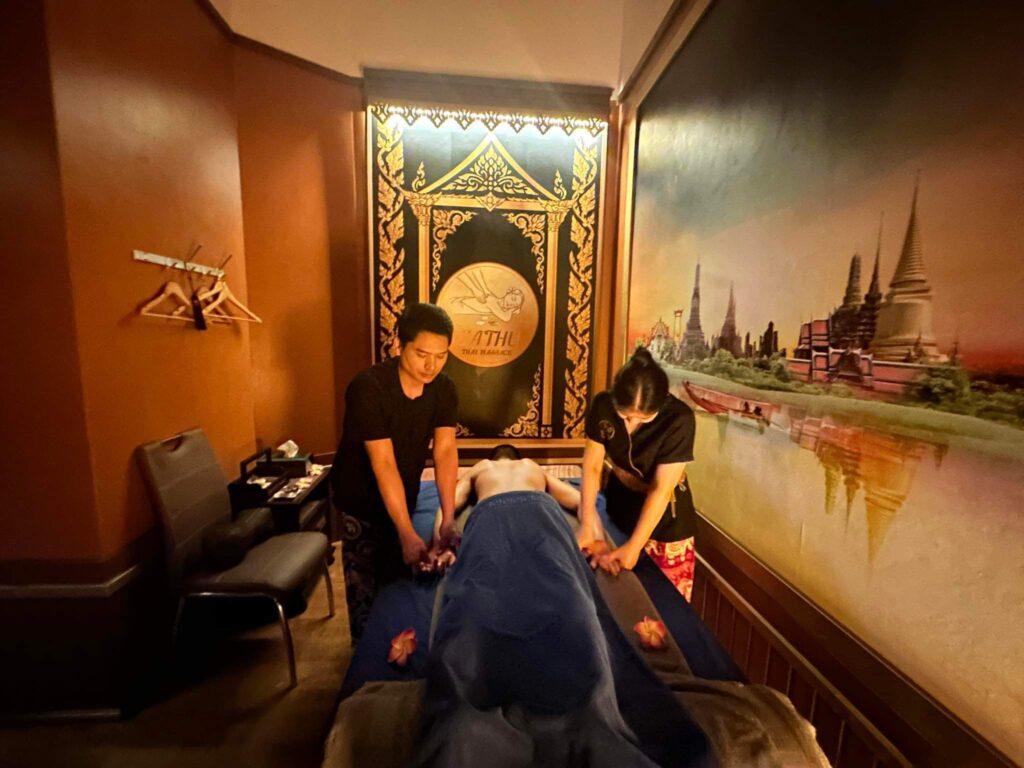 4 Hands Massage (2 Masseuse)
4 hands massage. With the 4-hand massage, you will be massaged by 2 people at the same time, which consists of synchronous, flowing movements and aroma oil massage techniques. This guarantees maximum relaxation and enjoyment. , , a wonderfully soothing, beneficial therapy for body and mind.
Wir bieten keine erotische Massage an!
Seriosität... Wir möchten darauf hinweisen, dass in unserem Geschäft keine wie auch immer gearteten Sex-, oder Intimmassagen durchgeführt werden. Personen, die die Mehrleistung erfragen bzw. verlangen, werden nicht als Kunde unseres Geschäftes angenommen.
🙏❤️🙏

Laufen Sie nicht mit steifen und empfindlichen Gelenken herum. Befreien Sie sich von den Schmerzen!
Buchen Sie noch heute eine Behandlung. Rufen Sie uns an unter: 030 9838 9481